IDCNOVA news:Recently,the ground breaking ceremony for Huawei Cloud Langfang Data Center Project,a site located in Northern China's Langfang City started.Huawei will invest 40 billion RMB to build up facilities including modular data center(MDC)and unleash the application technology and data resources of Huawei in big data field as well as lifting the comprehensive information competitiveness of local area for Langfang,a city between Beijing and Tianjin,which is aimed to take over and grasp the opportunities of industrial re-deployment of Beijing and Tianjin.
The Huawei Cloud Langfang Data Center Project occupies 54,000 square meters,consisting of chilled station,power support area,53U8KW cabinet,control center,office building and storage,etc.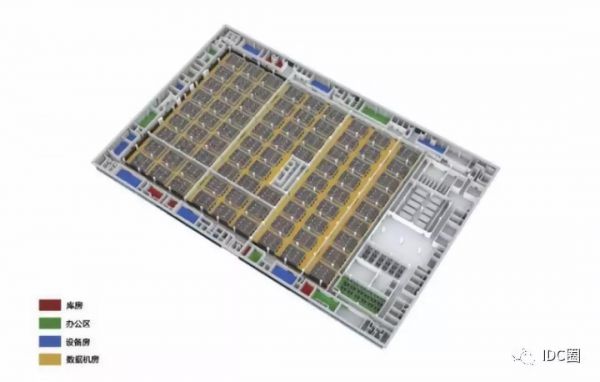 In addition,this project of Huawei cloud applies suitable innovative solutions fitting local climate and landscape,like storage micro module style beside the conventional modular design,as well as continuous internal optimization to guarantee strong support in terms of the scenario adaptability and security.
Related:GDS Announces Pricing of Public Offering of ADSs
1.6b, China Unicom to launch a new data center project in Shenzhen
During the construction,Huawei also adopts AI,handle those parts with highest fault rate like hard disk and memory database of server and storage in advance,predict the fault tendency and timing of hard disk and memory,thus achieve the target from preventive maintenance to predictable maintenance;the annual energy conservation reaches over 5%and saving power cost nearly 10 million yuan via iCooling,intelligent synergy IT and cooling system to adapt it under best state.Moreover,this project could be completed as a data center of visible operation,automatic maintenance and self service.
Except for this Huawei cloud project,tens of other projects covering robotics,high-tech incubator,intelligent manufacturing and so are also launched together,costing 101.6 billion yuan in Langfang City.
Related: Executive insights|Athub VP: we support world-class IT giants with customization (Part II)
Compiled by China IDCNOVA, retransmission prohibited without authorization.
For more information, please contact justin@idcnova.com