Executive insights of IDCNOVA
Editor's note: Athub Co.,the listed and leading tailor made data center provider from Shanghai,China just announced its 1.6 billion yuan deal with China Unicom to construct a new project in Shenzhen,south of China,which arouse widespread attention."Why is it"seems probably a frequent puzzle for many of us,even it's already quite a fame for Athub in the past development.
The interviewee today on"Executive insights"is Wang Haifeng,the Vice President and the Chief Architect of Athub Co.,(hereinafter referred to as Wang),who shared the current state of development,the existing opportunity and challenge faced by data center and the outlook on the future development of data center.
As one of the few providers serving the tech giants including BAT and NetEase at the same time,our exclusive interview starts here.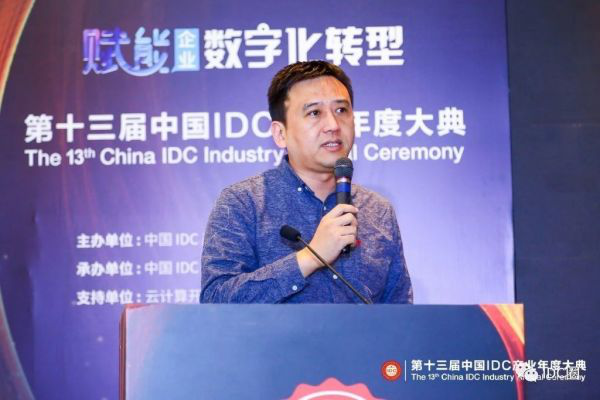 Wang Haifeng,Vice President and Chief Architect of of Athub Co.
IDCNOVA: Athub Co.,is the one of the only few cloud data center providers that serves four major world-class internet companies,which are BAT and NetEase.In your perspective,what advantages Athub Co.,holding that appeal to these tech giants for cooperation with you?
Wang: First of all,it's due to our full-life-cycle data center energy efficiency management system,which supports the energy efficiency reduction for our customers at maximum,so as to enhance their competitiveness of cost control compared with other internet rivals.Our energy efficiency management system covers various stages of data center,including the preliminary planning and location,design、standardization and evaluation,purchase and implementation,verification and acceptance as well as operation and maintenance.
Second,the combination of safety and efficiency in terms of construction and O&M.At present,Athub Co.has already maintained 57 consecutive months of downtime-free and SLA violation-free,8 consecutive years'safe and stable maintenance for double singles day of Alibaba.
Only by into and under the continuous performance in the operation and maintenance stages,thus the commercial values of a data center could be fully fulfilled,and the crucial part to achieve that is meed the SLA and take the control of OPEX well.
Third,innovation comes always as the top driving force.Athub Co.Is capable of varied innovative skills in terms of data center design,implementation,operation and maintenance,like chilled water system and wind wall for indirect and direct natural cooling respectively.The energy consumption level of Athub Co.Is 50%lower compared with the average level in China.
IDCNOVA: Thank you Mr.Wang for your detailed explanation,what is the self-positioning and development of Athub Co.?
As the leading tailor-made data center provider for China,Athub Co.Is dedicated to become a comprehensive cloud ecology service provider in the future.We will consistently work hard in data center infrastructure field and fully play our unique advantages,expand fast in local markets of China,combine and mix with hybrid cloud solutions,march forward towards the cloud ecological Athub Co.,consisting of cloud computing,big data,AI,IoT and intelligent driving.
IDCNOVA: What the business of Athub Co.Is divided?Will you develop towards hybrid cloud service provider in the future?You enhanced the cooperation with Alibaba in the aspect of hybrid cloud business,what's your consideration for that?
At present,our business scope lies in 3 major parts:tailor-made data center,provide Chinese tech giants like BAT with specific services;external expansion,convert from traditional IT service into external service provider,like EPC,host operation and maintenance,etc.;hybrid cloud service based on our own advantages.
With the rapid development of cloud computing,big data,AI and IoT,the sci-tech advancement is pushing the conventional data center towards deeper and broader cloud service trend.Most of our customers are cloud computing giants,which is easier for us to transform into a hybrid cloud service provider,meaning lots of opportunities too.
IDCNOVA: We noticed that you launched a series of data centers across the country recently,could you share with us your strategic deployment and business consideration?In the following time,do you have new data centers available?
Wang: In recent years,data has been keeping increased astonishingly,thus the data centers expanded greatly.It's cited that China would become the largest country of data resources,which reflects the urgency of data center development currently in China.Athub Co.Would continually explore local markets for new data center construction from the Tier I region of Beijing-Tianjin-Hebei,Yangtze River Delta and Pearl River Delta to other Tier II and Tier III regions.
IDCNOVA: In a relatively very short period,both your data centers in Zhangbei,Hebei Province and Shenzhen are completed into official open,why can you achieve such a rapid delivery?
Wang: It's 75 days from construction to operation and 11 months from land approval to operation for our data centers in Shenzhen and Zhangbei,Hebei Province respectively,while the average time limit could be around 2 years.
Why we could achieve those rapid delivery,that's closely connected with corporate culture of"efficiency is everything".We always put the customer demand at first place,upon our rich and abundant data center construction experiences and overall institutional follow capability,innovation and application and project management,which all brings about our faster delivery.
Related reading:
Executive insights|Athub VP: we support world-class IT giants with customization (Part II)
1.6b, China Unicom to launch a new data center project in Shenzhen

Compiled by China IDCNOVA, retransmission prohibited without authorization.
For more information, please contact justin@idcnova.com