Amazon Cloud Technology held an online summit in China with the theme of "Building a New Pattern and Reshaping the Cloud Era" from September 9th to 14th. It launched 5 keynote speeches covering industry vision, technological innovation, developers and open source, cloud security, and artificial intelligence, and 8 technical sub-forums covering various sub-fields of cloud computing. And 10 industry sub-forums gathering cloud trends and innovative practices in various industries to share forward-looking trend insights.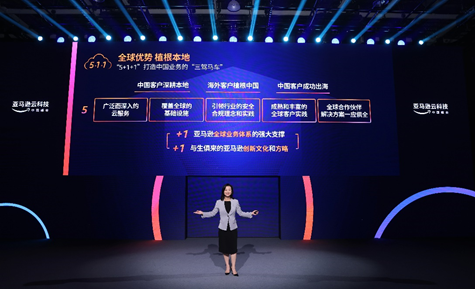 Zhang Wenyi, Amazon Global Vice President and Executive Director of Amazon Cloud Technology Greater China, delivered a keynote speech
Zhang Wenyi, Amazon's global vice president and executive director of Amazon Cloud Technology Greater China, comprehensively elaborated on Amazon Cloud Technology's China strategy of "rooting global advantages" in the keynote speech on the first day, especially how to integrate "5+1+1" The global advantages of the company are fully implemented in China, as well as the goals and plans of Amazon Cloud Technology in talent training and environmental sustainable development.
She also announced a number of important initiatives by Amazon Cloud Technology in promoting industry transformation and talent training at the summit, including launching the "Auto Industry Innovation Acceleration Plan", uniting with representative companies in the automotive industry industry chain, and reshaping the automotive industry value chain ; Working with Qifang Educational Institutions to establish the "AI Empowering Future Builders Alliance", from the three aspects of innovative courses, digital platforms and promotion of learning by competition, with Amazon Cloud Technology's Deep series of AI practice tools as the core, to help Chinese youth artificial intelligence Educational development; and the launch of the "AI in the Future" charity program, which is expected to donate more than 11 million yuan to the Beijing Qingxi Yuanshan Charity Foundation, and bring artificial intelligence education resources to 100 middle schools in ten provinces for free within three years. It is expected to benefit students Tens of thousands.
"China is one of the most important countries in the global business layout of Amazon Cloud Technology. In order to help the rapid development of China's digital economy, Amazon Cloud Technology, as the pioneer and leader of global cloud computing, has been increasing local investment to create an innovation engine for digital transformation in all walks of life. At the same time, we are also actively uniting all forces to inject strong impetus into the training of cloud computing talents at all stages in China, and create a trinity training system of industry, university and research, so as to help the sustainable development of China's digital economy. " According to ZHANG Wenyi, Amazon's global vice president and executive director of Amazon Cloud Technology Greater China.
---
About IDCNova
IDCNova (Website: www.idcnova.com) is registered under the Hong Kong based Digital Intelligence International Company Limited. As the international presence of Zhongke Zhidao (Beijing) Co Ltd, Ditital Intelligence International aimes at establishing IDCNOVA as a professional media and consulting organization focusing on Internet data center and cloud computing industry, with proactive participation in global emerging markets.

IDCNOVA shares the partent company's unparalleled industry resources and influences in China to track the growth of the ecosystem by delivering news and professional advise on data center in China.
English Website: www.idcnova.com
Wechat Account:

Twitter: @idcnova