Recently, the second phase of Shanghai Mobile's Lingang IDC R&D and Industrialization Base Project was officially completed. The project officially started on November 2, 2019, and is the first large-scale data center to start after the establishment of the Lingang New Area.
The IDC R&D and industrialization base of Shanghai Mobile Lingang covers an area of approximately 160,000 square meters, with a total construction area of 250,000 square meters. The project is constructed in two phases. The first phase has a construction area of about 100,000 square meters. It started construction in February 2015 and was put into trial operation in December 2017. There are 9 buildings in the first phase, mainly including 3 data center computer rooms and 1 submarine cable landing station. It could provide the installed capacity of about 8000 IDC racks.
The second-phase project has a construction area of about 150,000 square meters, including 7 data center computer rooms, which can provide about 20,000 racks. At present, the second phase of the project has been completed, and some machine rooms are being installed with racks. The installation is planned to be completed in January 2022 and operation will begin in March.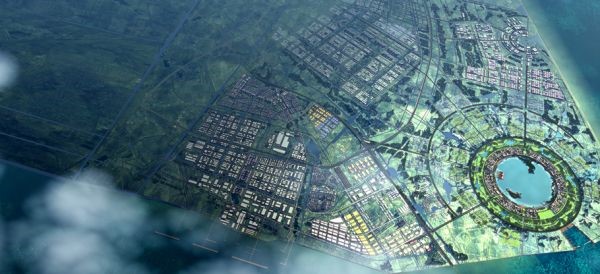 Picture|Lingang New Area of China (Shanghai) Pilot Free Trade Zone
In recent years, Shanghai Lingang New Area has promoted the construction of digital infrastructure in many ways. In September 2021, the Ministry of Industry and Information Technology issued a reply to the Shanghai Municipal Administration of Communications and the Management Committee of Lingang New Area, formally agreeing to launch a pilot program for a new Internet exchange center in Shanghai. It was the fourth approved The fourth national new Internet exchange center.after Hangzhou, Shenzhen, and Zhongwei.
In the revised "Shanghai Data Regulations (Draft)" submitted for review in October 2021, a special chapter "Pudong New Area Data Reform" was set up, proposing that Shanghai should establish a data exchange in Pudong New Area in accordance with national requirements, and at the same time support Lingang New Area to build an international At the Dataport, build an offshore data center.
According to the "2020-2021 Shanghai and Surrounding Area IDC Market Research Report" released by KZ Consulting, the IDC business market in Shanghai in 2020 has reached 14.03 billion yuan. Due to the tightening of Shanghai's relevant policies and the impact of the epidemic, the limited number of new data centers in Shanghai, and the mismatch of supply and demand, etc, at present, the supply of high-quality data centers in Shanghai is limited, and the new Lingang area will become a neww hot spot for data center industry.
---
About IDCNova
IDCNova (Website: www.idcnova.com) is registered under the Hong Kong based Digital Intelligence International Company Limited. As the international presence of Zhongke Zhidao (Beijing) Co Ltd, Ditital Intelligence International aimes at establishing IDCNOVA as a professional media and consulting organization focusing on Internet data center and cloud computing industry, with proactive participation in global emerging markets.

IDCNOVA shares the partent company's unparalleled industry resources and influences in China to track the growth of the ecosystem by delivering news and professional advise on data center in China.
Industry Report:
2021-2022 China Data Center Industry Electromechanical Equipment Market Research Report

2021-2022 China Data Center Industry Electromechanical Equipment Market Research Report.pdf
2020-2021 China IDC Market Research Report

Sample 2020-2021 China IDC Market Research Report.pdf
2020-2021 IDC Market Analysis Report in Beijing and Surrounding Areas

Sample 2020-2021 IDC Market Research Report for Beijing and Surrounding Areas.pdf
2020-2021 IDC Market Analysis Report in Shanghai and Surrounding Areas

Sample 2020-2021 IDC Market Research Report for Shanghai and Surrounding Areas.pdf
2020-2021 IDC Market Research Report for Guangzhou-Shenzhen and Surrounding Areas

2020-2021 IDC Market Research Report for Guangzhou-Shenzhen and Surrounding Areas.pdf
For industry insights, please contact pm.s@idcnova.com
English Website: www.idcnova.com
Wechat Account:

Twitter: @idcnova