SenseTime is listed on the Hong Kong Stock Exchange
On December 30, the artificial intelligence company SenseTime Group Co., Ltd. (hereinafter referred to as "SenseTime Technology") was officially listed for trading on the main board of the Hong Kong Stock Exchange. In the morning trading, the stock price once rose to HKD 4.74, an increase of 23%.
The listing makes SenseTime's AI technology attracted the attention of industries such as data centers.
What is the difference between AIDC and IDC
As we all know, the three major elements of artificial intelligence, data, computing power, and algorithms, are inseparable from the support of data centers. Previously, artificial intelligence companies often rented third-party data centers for AI training and reasoning. In recent years, data centers designed for AI requirements and providing specialized services for artificial intelligence are accelerating their implementation. The general power of a GPU used in artificial intelligence computing is two to three kilowatts, or even five to six kilowatts. Therefore, data centers in AI scenarios exhibit high power and other characteristics, and there are supercomputing centers dedicated to AI training.
However, most supercomputing centers use CPU as the underlying computing power unit, which cannot meet the needs of AI.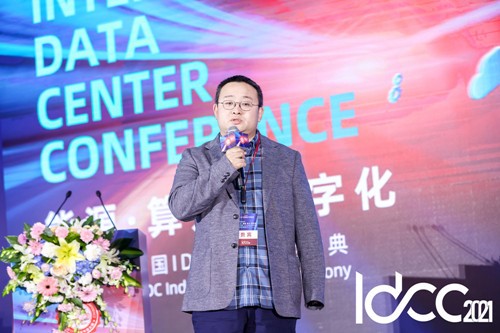 Yang Song, Deputy General Manager of Shanghai Shangtang Technology Development Co., Ltd.
At the 16th China IDC Industry Annual Ceremony held on December 21-22, Yang Song, deputy general manager of Shanghai Shangtang Technology Development Co., Ltd., delivered a keynote speech on "Intelligent Computing Center Drives AI to Empower All Industries". In his speech, he said that from experience, artificial intelligence computing power will encounter the following three problems:
1. How to adapt the heterogeneous computing power of multiple artificial intelligences in the intelligent computing center;
2. How to lower the threshold for the use of computing power in artificial intelligence scenarios;
3. How to transform the demand of massive scenes into the demand of computing power.
He pointed out that the most important thing for the artificial intelligence computing center is how to apply AI computing power in the intelligent computing center.
It is reported that SenseTime is building an artificial intelligence computing center or "AIDC" in Shanghai. The Shanghai Artificial Intelligence Computing Center uses GPU as the basic computing power unit to serve visual AI algorithm training. In China, such forms of supercomputing centers are few.
In the listing materials, SenseTime lists "strong artificial intelligence infrastructure (SenseCore)" as one of the eight competitive advantages compared to other AI companies, and will "continue to increase investment in SenseCore artificial intelligence infrastructure and models." " which is included in the core strategy.
AIDC of 5000 Racks
SenseTime builds AIDC in Shanghai to further enhance the production capacity of SenseCore and expand AI-as-a-Service to more vertical industries.
The AI computing center is located in the Lingang New Area of the China (Shanghai) Pilot Free Trade Zone, on the H34-07a block of the Heavy Equipment Industrial Park, covering an area of nearly 80 acres, with a total investment of more than 5 billion yuan. The first phase will be resettled 5000 racks equivalent to 8000W.
The whole construction content of the project includes: A1-A6 supercomputing center, operation and maintenance center, 220kV substation, diesel generator room, underground pool pump room and corridor, etc.
The project has started in July 2020.
After the Shanghai Lingang AI Computing Center is completed and put into use, the total computing power will exceed 3700P FLOPS, which can simultaneously access 8.5 million channels of video, and can complete 23,600 years of video processing in one day.
According to previous disclosures by SenseTime, in terms of business, SenseTime is the company with the largest revenue in China AI software industry. In 2018, 2019 and 2020, SenseTime's revenue was 1.85 billion yuan, 3.03 billion yuan, and 3.45 billion yuan, respectively; in the first half of 2021, SenseTime's revenue was 1.65 billion yuan, an increase of 91.8% compared to the same period last year.
On the 10th of December, the U.S. Department of the Treasury included SenseTime on the "list of non-SDN Chinese military-industrial complex companies", which caused concerns. At that time, in order to protect the interests of the company's potential investors and help them consider the potential impact of these latest developments on their investment decisions, SenseTime issued an announcement on December 13 to announce the delay in listing. After that, the Hong Kong stock IPO was restarted on December 20, and the subscription was ended early on the 23rd.
The Financial Secretary of the Hong Kong Special Administrative Region Government, Chen Maobo, appeared at the Hong Kong listing celebration ceremony of SenseTime and said that every successful company has a story, and every success story may inevitably have some twists and turns.
---
About IDCNova
IDCNova (Website: www.idcnova.com) is registered under the Hong Kong based Digital Intelligence International Company Limited. As the international presence of Zhongke Zhidao (Beijing) Co Ltd, Ditital Intelligence International aimes at establishing IDCNOVA as a professional media and consulting organization focusing on Internet data center and cloud computing industry, with proactive participation in global emerging markets.

IDCNOVA shares the partent company's unparalleled industry resources and influences in China to track the growth of the ecosystem by delivering news and professional advise on data center in China.
Industry Report:
2021-2022 China Data Center Industry Electromechanical Equipment Market Research Report

2021-2022 China Data Center Industry Electromechanical Equipment Market Research Report.pdf
2020-2021 China IDC Market Research Report

Sample 2020-2021 China IDC Market Research Report.pdf
2020-2021 IDC Market Analysis Report in Beijing and Surrounding Areas

Sample 2020-2021 IDC Market Research Report for Beijing and Surrounding Areas.pdf
2020-2021 IDC Market Analysis Report in Shanghai and Surrounding Areas

Sample 2020-2021 IDC Market Research Report for Shanghai and Surrounding Areas.pdf
2020-2021 IDC Market Research Report for Guangzhou-Shenzhen and Surrounding Areas

2020-2021 IDC Market Research Report for Guangzhou-Shenzhen and Surrounding Areas.pdf
For industry insights, please contact pm.s@idcnova.com
English Website: www.idcnova.com
Wechat Account:

Twitter: @idcnova