On August 20th, China Telecom was officially listed on the main board of the Shanghai Stock Exchange with an issue price of 4.53 yuan per share. As of today's close, it has risen by more than 34% to close at 6.11 yuan per share, with a market value exceeding 500 billion yuan. Since then, China Telecom has officially achieved A+H listings.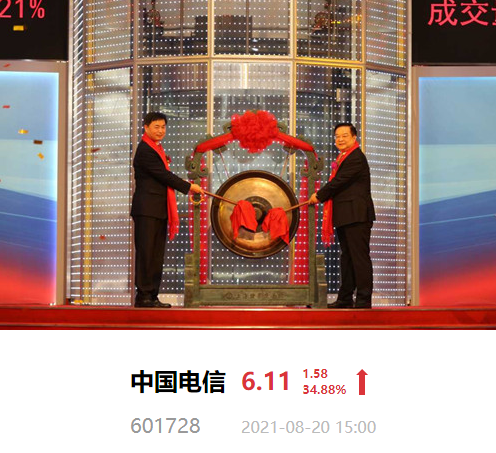 Public information shows that China Telecom has built a "2+4+31+X+O" integrated cloud network resources.
"2" refers to Inner Mongolia Information Park and Guizhou Information Park, the two central data centers serving the world;
"4" refers to the 4 key regional nodes including Beijing-Tianjin-Hebei, Yangtze River Delta, Guangdong-Hong Kong-Macao, Shaan-chuan-yu
"31" refers to the 31 provinces, and every province has its data centers.
"X" refers to Widely distributed edge nodes
"O" refers to the overseas nodes

China Telecom Inner Mongolia Guizhou Information Park
As of June 30, 2021, China Telecom has more than 700 data centers and 430,000 external service racks, of which more than 80% of the racks are deployed in four economically developed regions.
In the first half of the year, Tianyi Cloud's revenue reached RMB 14 billion, a year-on-year increase of 109.3%, and continued to maintain its leading market position in the industry, with PaaS and SaaS revenue accounting for approximately 25%.
After A-share listed, China Telecom became the second of the three basic telecom operators to be listed at the same time both domestically and overseas after China Unicom. In addition, China Mobile has also started to return to A. On August 18, China Mobile's A-share prospectus was pre-disclosed on the website of the China Securities Regulatory Commission.
---
About IDCNova
IDCNova (Website: www.idcnova.com) is registered under the Hong Kong based Digital Intelligence International Company Limited. As the international presence of Zhongke Zhidao (Beijing) Co Ltd, Ditital Intelligence International aimes at establishing IDCNOVA as a professional media and consulting organization focusing on Internet data center and cloud computing industry, with proactive participation in global emerging markets.

IDCNOVA shares the partent company's unparalleled industry resources and influences in China to track the growth of the ecosystem by delivering news and professional advise on data center in China.
English Website: www.idcnova.com
Wechat Account:

Twitter: @idcnova