The 2020 final data of Synergy Research shows that due to a 22% increase in public cloud infrastructure spending,the global data center hardware and software market will increase by 4% annually in 2020, reaching the highest level in history. Cloud providers continue to invest heavily in data centers to meet the growing demands of users for their services; at the same time, companies' spending on their own data center infrastructure has fallen by 6% annually.
In terms of market share, ODM generally accounts for the largest share of the public cloud market. Inspur, Huawei and Dell are the leading vendors, and their market share in 2020 is similar. In terms of growth rate, Inspur, Huawei and ODM are big winners. In the enterprise infrastructure market, the leaders are Microsoft and Dell, followed by HPE, Cisco and VMware.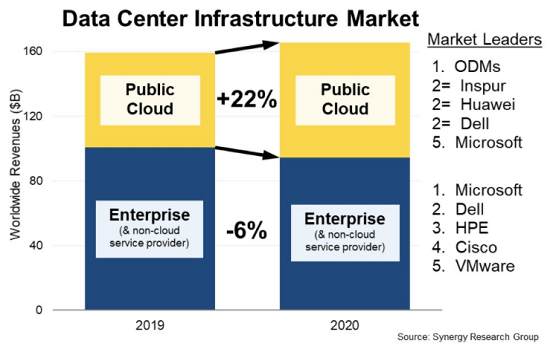 In 2020, the total revenue of global data center infrastructure equipment (including cloud and non-cloud hardware and software) will reach US$165 billion, of which public cloud infrastructure will account for 43% of the total revenue. Hardware such as servers, storage, and networks accounted for 77% of the data center infrastructure market, and software such as operating systems, virtualization software, cloud management, and network security accounted for 23%.
In terms of market segmentation, Dell is the leader in the server and storage sector; Inspur leads in the sale of servers to cloud providers; Cisco is in the leading position in the network field; and Microsoft ranks among the best in server operating systems and virtualization applications. In addition to these four, other leaders in the market include HPE, Huawei, VMware, Lenovo and IBM.
Chief analyst John Dinsdale in Synergy said: "We predict that in the next five years, the entire data center equipment market will continue to grow steadily. However, the expenditures of public cloud providers and enterprises continue to shift to cloud services. In the server sector, shipments to public cloud providers have exceeded shipments to enterprises. At present, due to higher average selling prices, the enterprise server market is still larger, but as the number of public cloud servers continues to grow, this situation will soon change. "
---
About IDCNova
IDCNova (Website: www.idcnova.com) is registered under the Hong Kong based Digital Intelligence International Company Limited. As the international presence of Zhongke Zhidao (Beijing) Co Ltd, Ditital Intelligence International aimes at establishing IDCNOVA as a professional media and consulting organization focusing on Internet data center and cloud computing industry, with proactive participation in global emerging markets.

IDCNOVA shares the partent company's unparalleled industry resources and influences in China to track the growth of the ecosystem by delivering news and professional advise on data center in China.
English Website: www.idcnova.com
Chinese Website: www.idcquan.com
Wechat Account:

Twitter: @idcnova