GDS and 21Vianet,two major US listed Chinese data center operators,announced their annual revenue of 2018 early this March.It is a bit staggering to observe something different in their earning performances.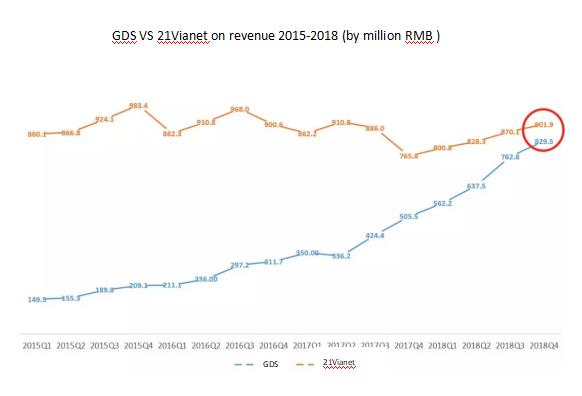 From the above chart,it's apparent that the revenue gap is diminishing quickly between GDS and 21Vianet,especially in the Q4 of 2018.If the pattern of growth continues,we would expect GDS to become the largest carrier-neutral data center operator of China in the first quarter of 2019 at the earliest.
Probably it is more worth noting if we look back at the revenues of the two operators.In the past three years,the single-quarter revenue of GDS has increased more than fivefold and hit 830 RMB in last quarter,while that of 21Vianet has stayed almost unchanged.
Why is that?Maybe GDS is in essence doing a better operation job in three ways.
Customers
Originated by serving BSFI sector,GDS has established solid partnership with many financial customer like Ping An Group.Moreover,GDS's clients from the most prominent feeding industry like cloud computing,internet are also on the rise.According to Cisco,92%of the global traffic flow in data centers will come from cloud computing by 2020.In another word,computing and data storage will grow exponentially in the future,and drive the demand for the cloud infrastructure,data centers,to prosper as well.

Footprint expansion

The fundamental service of data center operator is to provide physical sites with reliable operation environment.Besides the professional technical services,the location of a data center acts as an equally important factor in its fiscal performance.Demands for data centers are still surging in those hot markets.GDS is not only constructing self-own data center site,but also opting for merger and acquisition in crucial cities to keep its rapid development.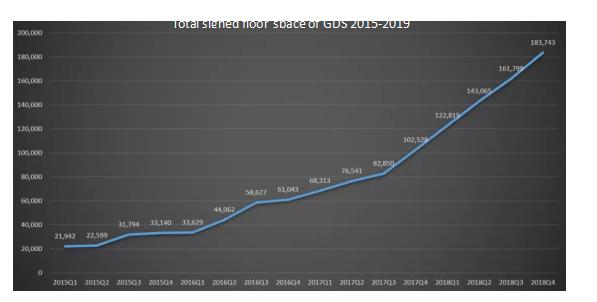 The total floor space for sale is an indicator for the future revenue.By the fourth quarter of 2018,that number of GDS has exceeded 160,000 sqm and is increasing constantly.
Fundraising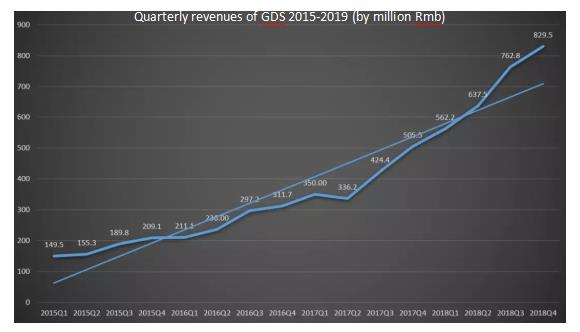 Throughout 3 years from 2015 to 2018,GDS has achieved dramatical grow in revenue,which is rare in the capital intensive industry of data centers.The remarkable development of GDS is boosted by its strong capability of fundraising.
GDS became a NASDAQ listed company on November 2,2016 and has kept a good record of fundraising management by introducing strategic investors,issuing convertible bond and stocks since its IPO.
Recently,GDS announces$150m equity investment from PAG and issued 1200 ADSs,fundraising$445m.
The total fundraising of GDS has amounted to about$1.4 billion since its IPO.
Without those capital,it is hard for GDS to make revenue surge in the past 2 years.The strong fundraising performance also implies that GDS is favored by investors for its potential and promising future.
Gross profit margin(GPM)
Looking back the past three years,the GPM of GDS stayed stable around 23%though experiencing a slight decline in the first half of 2018 and is significantly higher than its Chinese peers.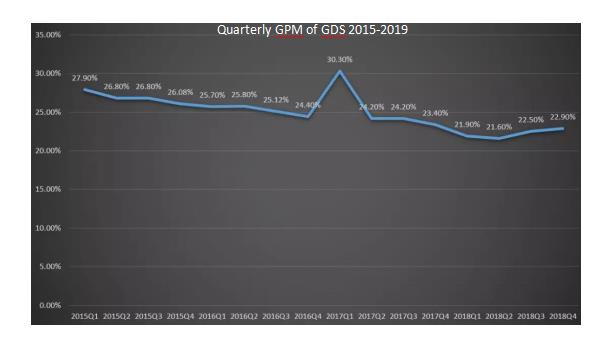 At present,the market value of GDS has already amounted to$4.5 billion,which tops among other listed Chinese data center operators.In addition,the expected revenue growth of GDS will probably make its market value hit another record.

Related: PAG acquired $150m equity from GDS for data center
GDS Announces Pricing of Public Offering of ADSs
Compiled by China IDCNOVA, retransmission prohibited without authorization.
For more information, please contact justin@idcnova.com