Recently, the first China-Arab Summit was held in Saudi Arabia. This summit opened up a broader prospect for the China-Arab strategic partnership, and a series of key cooperation projects will be signed. Aofei International, a wholly-owned subsidiary of Guangdong Aofei Data, was invited by the Ministry of Investment of Saudi Arabia (Minister of Investment) to cooperate with the famous Saudi company Ajlan & Bros Holding Group and Baishan Cloud Technology to invest in a new data center and local cloud in Riyadh, the capital of Saudi Arabia. A cooperation agreement was signed for the cooperation of the computing platform project. Under the witness of Khalid al-Falih, Minister of Investment of Saudi Arabia, YANG Peifeng, CEO of Aofei International, signed an agreement with representatives of all parties on the spot and conducted in-depth exchanges.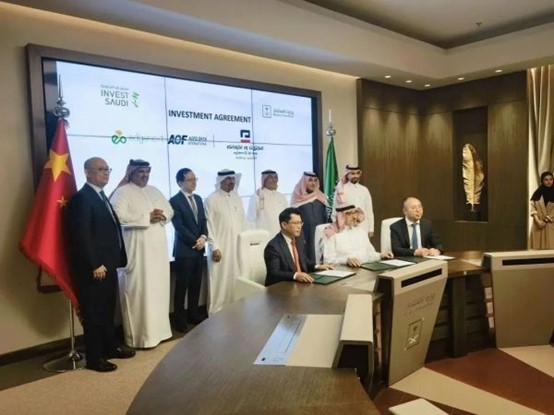 According to the cooperation agreement, the three parties will build and operate a large-scale data center and a local cloud computing platform in Riyadh, and provide Saudi Arabia and neighboring countries with integrated solutions including big data, storage, network coverage and database services to support the growing business needs of industries such as the region's Internet, healthcare and financial services in the process of digitization. The project will provide Saudi customers with cloud computing services with world-leading versatility, security and stability, and will also meet the data service needs of Chinese-funded enterprises in Saudi Arabia, as well as the implementation of international business related to the Belt and Road Initiative.
中国"一带一路"倡议、2035远景目标与沙特"2030愿景"、"国家转型计划"等发展战略重要内容高度契合。奥飞国际丰富的数据中心运维经验、客户服务能力,和"一带一路"紧密相结合的AAE1国际海缆资源及全球节点布局,都得到了沙特阿拉伯各方的高度认可,并为本次项目的国际合作注入强大动力。此次合作,将推动沙特数字化发展,助力沙特实现"国家转型计划"战略目标。同时也有助于中国2035远景目标的实现以及"一带一路"业务版图的拓展。
China's "Belt and Road" initiative and the 2035 long-term goal are highly consistent with Saudi Arabia's "2030 Vision" and "National Transformation Plan" and other important development strategies. Aofei International's rich experience in data center operation and maintenance, customer service capabilities, and the AAE1 international submarine cable resources and global node layout closely integrated with the "Belt and Road Initiative" have been highly recognized by all parties in Saudi Arabia, and provide strong support for international cooperation. This cooperation will promote the digital development of Saudi Arabia and help Saudi Arabia realize the strategic goal of the "National Transformation Plan". At the same time, it will also help the realization of China's 2035 long-term goal and the expansion of the "Belt and Road" business map.
Ajlan Mohammad Al Ajlan, vice president of Ajlan & Bros Holding Group, said: We have been deeply involved in the Chinese market for many years, and we have always attached importance to in-depth exchanges and cooperation with Chinese companies. We hope to take this as an opportunity to establish partnerships with more Chinese technology companies such as Aofei International and Baishanyun, and to carry out in-depth development in 5G, cloud computing, big data, artificial intelligence and other fields under the framework of the 'Saudi Arabia 2030' vision cooperation, develop digital business, share the development achievements of Saudi Arabia, and win future opportunities together.
Sha Yong (沙涌), head of Baishan Cloud's overseas business, said: The cooperation with Ajlan & Bros Holding Group and Aofei International is an important step for Baishan Cloud to deeply cultivate Saudi Arabia and its radiated Middle East market. We hope to work with partners to create more diversified product portfolio and solutions, and to enable global enterprises to enjoy the dividends of digital technology more safely and conveniently.
Yang Peifeng (杨培锋), CEO of Aofei International, said: The Middle East market is an important puzzle for Aofei Data's international business. This strategic cooperation with Ajlan & Bros Holding Group and Baishan Cloud will realize the complementary advantages of the three parties in terms of capital, technology, market and operation, and effectively To improve the in-depth capabilities of Aofei International's localized operations and product services, we are looking forward to the successful implementation of this project, which can promote and assist the implementation of Saudi Arabia's "Vision 2030" and "National Transformation Plan".
---
About IDCNOVA
IDCNova (Website: www.idcnova.com) is registered under the Hong Kong based Digital Intelligence International Company Limited. As the international presence of Zhongke Zhidao (Beijing) Co Ltd, Ditital Intelligence International aimes at establishing IDCNOVA as a professional media and consulting organization focusing on Internet data center and cloud computing industry, with proactive participation in global emerging markets.

IDCNOVA shares the parent company's unparalleled industry resources and influences in China to track the growth of the ecosystem by delivering news and professional advise on data center in China.
Research Report
2021-2022 China Data Center Industry Electromechanical Equipment Market Research Report

2021-2022 China Data Center Industry Electromechanical Equipment Market Research Report.pdf
2020-2021 China IDC Market Research Report

Sample 2020-2021 China IDC Market Research Report.pdf
2020-2021 IDC Market Analysis Report in Beijing and Surrounding Areas

Sample 2020-2021 IDC Market Research Report for Beijing and Surrounding Areas.pdf
2020-2021 IDC Market Analysis Report in Shanghai and Surrounding Areas

Sample 2020-2021 IDC Market Research Report for Shanghai and Surrounding Areas.pdf
2020-2021 IDC Market Research Report for Guangzhou-Shenzhen and Surrounding Areas

2020-2021 IDC Market Research Report for Guangzhou-Shenzhen and Surrounding Areas.pdf
For industry insights, please contact pm.s@idcnova.com
English Website: www.idcnova.com
Wechat Account:

Twitter: @idcnova