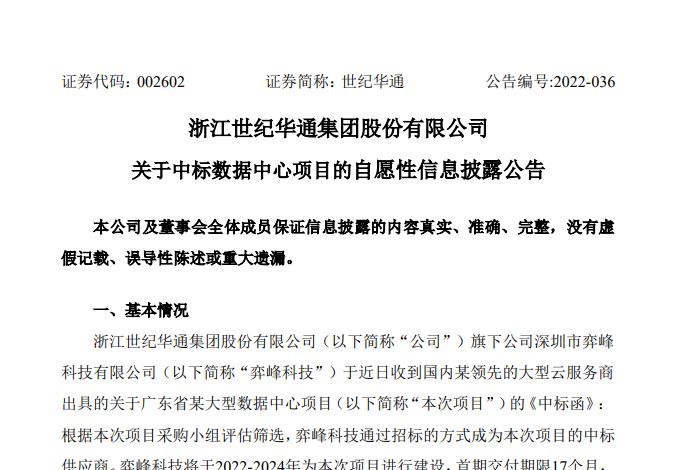 On May 5, Century Huatong issued an announcement announcing that its subsidiary, Yifeng Technology (弈峰科技), received a letter of bid from a leading large-scale cloud service provider in China and became the bid-winning supplier of a large-scale data center project in Guangdong Province.
It announces that Yifeng Technology will build the large-scale data center project from 2022 to 2024. The delivery period of the first phase is 17 months, and it will be constructed with reference to international standards Tier4, Tier3 and national A-level computer room requirements. This project is the first large-scale data center project won by Century Huatong in Guangdong Province.
Century Huatong said that winning the bid for the project shows that it has been recognized in the field of data center construction. The successful implementation of the project will become a benchmark for the development of its Internet data center business, which will help strengthen the company's ability to continuously obtain orders for Internet data center projects, and raising the brand awareness in the data center industry.
According to the financial report, the company's business is mainly divided into three sectors: Internet games, auto parts manufacturing and cloud data. In the cloud data sector, which includes the data center business, Century Huatong founded the special unit of cloud data business and invest the Yifeng Technology Guangming 5G Big Data Center Project" (referred to as "Shenzhen Data Center Project") located in Guangming District, Shenzhen.
In the second half of 2021, Century Huatong was deeply involved in the Tencent Yangtze River Delta Artificial Intelligence Advanced Computing Center project, and its first delivery area successfully passed Tencent's third-party testing and verification, marking the start of the project from the construction stage to the operation and maintenance stage.
In September 2021, Century Huatong accelerated its layout in the Pearl River Delta region and signed a purchase agreement for the "Yifeng Technology Bright 5G Big Data Center Project" located in Guangming District, Shenzhen. The project plans to operate about 12,000 cabinets, which have been put into construction.
In October 2021, Century Huatong signed a "Strategic Cooperation Agreement" with Tencent Cloud. The two parties will cooperate in data center business, industrial park development, government cloud computer room cooperation, government cloud business development, 5G edge computing center business cooperation, and server procurement and other fields.
Century Huatong says it will continue to replicate and apply the construction and operation experience of Tencent's Yangtze River Delta Artificial Intelligence Advanced Computing Center project, and continue to expand the layout of single ultra-large-scale computer rooms in key core areas across the country.
---
About IDCNova
IDCNova (Website: www.idcnova.com) is registered under the Hong Kong based Digital Intelligence International Company Limited. As the international presence of Zhongke Zhidao (Beijing) Co Ltd, Ditital Intelligence International aimes at establishing IDCNOVA as a professional media and consulting organization focusing on Internet data center and cloud computing industry, with proactive participation in global emerging markets.

IDCNOVA shares the parental company's unparalleled industry resources and influences in China to track the growth of the ecosystem by delivering news and professional advise on data center in China.
For industry insights, please contact pm.s@idcnova.com
English Website: www.idcnova.com
Chinese Website: www.idcquan.com
Wechat Account:

Twitter: @idcnova