A cluster of world-class cities for work,life and leisure forms the central vision of China's"Greater Bay Area"finally unveiled by Beijing late on Monday,laying out a road map to what it hailed as the new era of opening up.
  Forty years after the 1978 opening up of China,the central government published its long-anticipated document setting out its ambitious plan to transform Hong Kong and 10 cities around the Pearl River Delta into a thriving global centre of technology,innovation and economic vibrancy.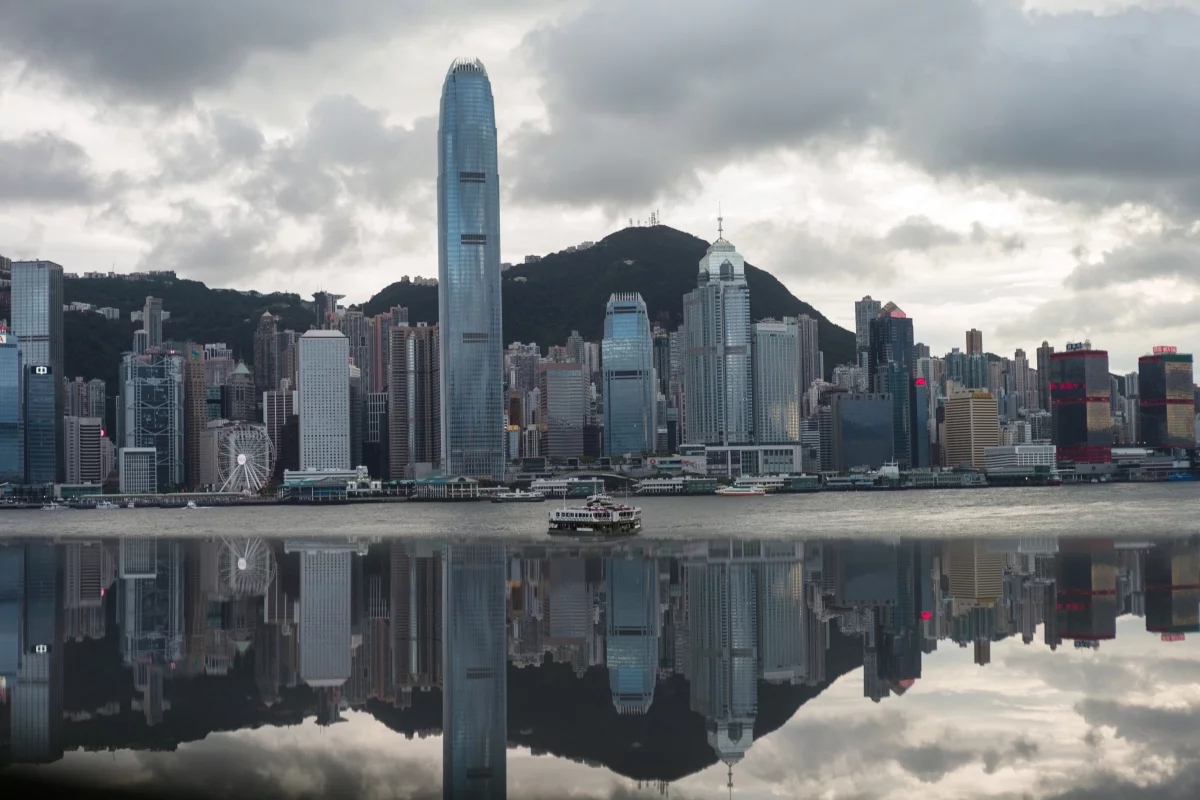 The blueprint identified five"strategic orientations",including closer integration between mainland China,Hong Kong and Macau,while upholding the governing principle of"one country,two systems"for the two special administrative regions.
  It confirmed that Hong Kong,Macau,Shenzhen and Guangzhou would be the four key cities of the bay area and the core engines for regional development.Hong Kong was mentioned 102 times in the blueprint,while Macau,Guangzhou and Shenzhen were named 90,41 and 39 times respectively.
  Chief Executive Carrie Lam Cheng Yuet-ngor was the first to welcome the blueprint setting out President Xi Jinping's personal ambition to integrate the 11 cities into an economic powerhouse to rival other innovation and financial hubs such as Silicon Valley and the Tokyo Bay Area.
  She thanked the central government"for placing importance on the views of Hong Kong",and noted that more details would be discussed at a symposium in the city on Thursday.The event will be attended by officials from China's National Development and Reform Commission as well as the leaders of Guangdong and Macau.
  "First,it can help identify new areas of growth for Hong Kong and foster the diversified development of its economy and industries.Second,it will expand the space for living and development of Hong Kong residents,"a spokesman for Lam's administration said of the blueprint."As a highly open and international city,Hong Kong can extend its international connections and experiences to the mainland and help bring in foreign investment.Hong Kong can also join hands with mainland enterprises to develop overseas markets and explore development opportunities."
  The document,which consists of 11 chapters,also touched on a wide range of goals and directions to push forward the development of the city cluster,such as improving infrastructural connectivity and quality of life,building a globally competitive commerce and industrial system,protecting the environment,and energy security,as well as supporting China's international trade strategy known as the"Belt and Road Initiative".
  On cross-border cooperation,the establishment of a Greater Bay Area international commercial bank would be explored,while the Nansha free-trade zone in Guangzhou would demonstrate comprehensive cooperation between Hong Kong,Macau and Guangdong on trade issues,according to the document.
  It also set out a timetable to build the framework for the bay area and city cluster by 2022.The next milestone would be 2035,when markets within the bay area would be highly connected.It pledged to"consolidate and enhance Hong Kong's status as an international finance,transportation and trade centre,as well as an international aviation hub".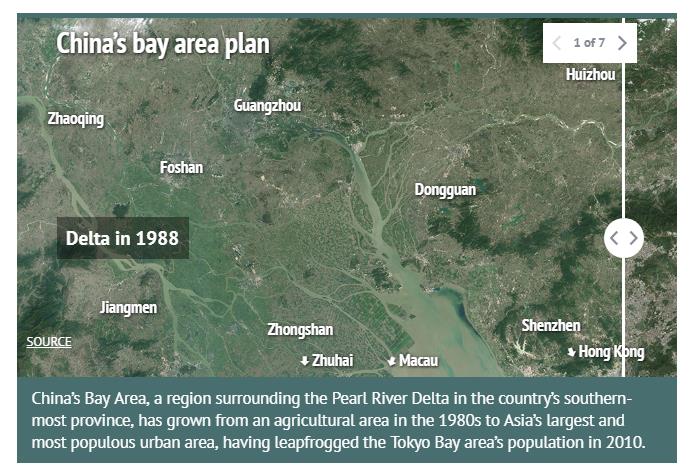 As for the other core cities:Macau would be a tourism hub and a platform for trade with Portuguese-speaking countries such as Brazil;Guangzhou would take a leading role as a provincial capital and national central city;and Shenzhen would play its part as a special economic zone and home of China's innovation and technology giants.
  While business chambers and pro-establishment politicians joined the government in welcoming the blueprint,opposition lawmakers warned that rather than being complacent,local authorities would have to stay vigilant in protecting the city's core values during integration.Dennis Ng Wang-pun,president of the Chinese Manufacturers'Association of Hong Kong,said Beijing's plan presented a raft of opportunities for the city's business sector.
  "The document clearly sets out the long-term development directions for each city…This will help their division of labour and help them to complement each other with their strengths,"he said.But Democratic Party chairman Wu Chi-wai said:"If Hong Kong is dealing with the bay area development as a participant,not as a competitor with mainland cities,it will only be helping other cities'progress while hurting its own long-term interests."
  Peng Peng,vice-president of Guangdong's South Non-governmental Think Tank,also said that while the plan mentioned various aspects of the region's development,it lacked concrete strategies on how to reconcile differences in the socio-economic and political systems involved."For example,which customs and legal system would take the leading role and influence the future development of the bay area?It's not clear in the outline,"he said.
  The Greater Bay Area development plan
  ●The bay area should be driven by innovation and led by reform

  ●Hong Kong,Macau,Guangzhou and Shenzhen are the four core cities of the 11

  ●Governments in Hong Kong,Macau and Guangdong should enhance communication and cooperate with mutual respect

  ●Authorities are to draw up plans to control financial risks and crack down on illegal activities

  Key development areas
  1.An international innovation and technology hub

  ●More opportunities and better conditions for Hong Kong and Macau youths to start businesses in the bay area

  ●Allow Hong Kong and Macau research and design firms in Guangdong to have the same treatment as mainland companies and benefit from national and provincial policies

  2.Expediting infrastructural connectivity
  ●Adopt new models of clearance procedures on the express rail and Hong Kong-Zhuhai-Macau Bridge

  ●Improve electricity transmission between mainland and Hong Kong

  ●Increase capacity at immigration ports in the bay area for a more efficient flow of people and goods

  3.Deepen ties between Hong Kong and mainland financial systems
  ●Stock connections between Shanghai and Hong Kong,as well as between Shenzhen and Hong Kong,will be enhanced

  ●Eligible Hong Kong and Macau banks and insurance firms will be supported in opening branches in Shenzhen,Guangzhou and Zhuhai

  4.Quality of life,work and travel
  ●Encourage Chinese nationals in Hong Kong and Macau to work at state enterprises and agencies
  ●Hong Kong and Macau residents working on the mainland could get the same rights to education,medical care,elderly care,housing and transport as mainland residents
  5.Education in the bay area
  ●Consider letting Hong Kong teachers work in Guangdong
  ●Children of Hongkongers working on the mainland could get same right to education as mainland residents
  ●Higher-education institutions from different cities will be supported in running schools and programmes jointly
  6.Cooperation between Guangdong,Hong Kong and Macau
  ●The establishment of a Greater Bay Area international commercial bank in Guangdong
  ●Create an international and market-oriented business environment based on rule of law,under the jurisdiction and legal framework of mainland China
  7.Ecological conservation: Strengthen water and air pollution control in the Pearl Delta River area
And now, Cloud Asia Expo Hong Kong 2019 is to launch at Hong Kong Convention and Exhibition Center May 22-23,2019. On the occasion, you will access to top HK data centers tour, share wisdom from Association for International Cooperation in Data Centers, and there are cloud and cyber security expo, big data world, smart IoT Hong Kong, data center Hong Kong, Cloud Asia Expo. Embrace Asia, we welcomes you here in Hong Kong!
22 - 23 MAY 2019, HKCEC, HONG KONG
CLOUD. DEVOPS. IOT. DATA. PLATFORM. INFRASTRUCTURE