IDCNOVA news,in the afternoon of February 13,the high-profile wireless network integration project of 416,000 base stations of China Unicom was released.According to the announcement of China Unicom's procurement and tendering website,this bidding involves 416,000 base stations L900 and L1800,L1800 integration,software functions,etc.,which is the largest domestic bidding project before 5G commercialization.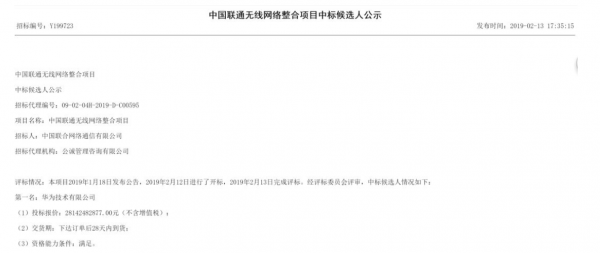 Through this bidding,China Unicom will make full use of the technical advantages of 900M in low-frequency voice network,Internet of things and data network,build a full-service base network with continuous coverage for 5G,build a minimalist network architecture with sustainable development,and prepare for the next 5G network deployment.
In the tendering,based on the good performanc of Huawei equipment and services,plus that Huawei provides leading global technologies of high gain dynamic spectrum sharing and SingleRAN Pro multimode network capacity,lowest power consumption,broadband 4 t4r and others,as well as digital delivery tools,Huawei has been recognized by China Unicom group and is expected to be in a landslide in the bid,the base station obtained share more than 50%,ranked no.1.
This will further enhance the strategic partnership between China Unicom and Huawei.
Compiled by China IDCNOVA, retransmission prohibited without authorization.

For more information, please contact justin@idcnova.com