Jan 14,2019/IDCNOVA news:For the first time,China has tested 4K ultra HD 5G network transmission.In 2019,5G network transmission of 4K UHD content will be realized at the Shenzhen venue of CCTV Spring Festival gala,which was also the first 5G network 4K transmission in China.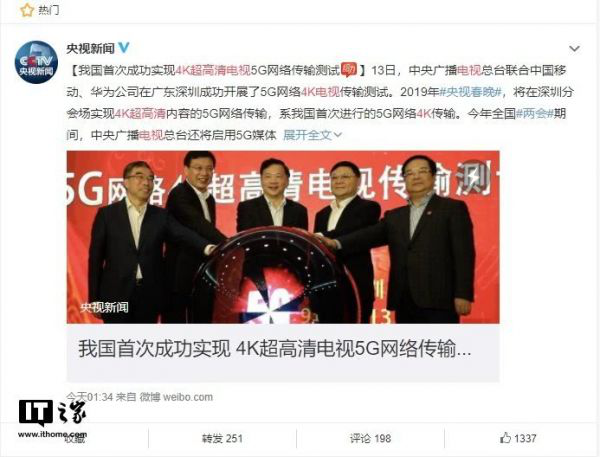 According to CCTV reports,China Media Group(CMG)jointly together with China Mobile,Huawei had successfully carried out 5G network 4K TV transmission test in Shenzhen City,Guangdong Province,the test will applied be at Shenzhen venue of the CCTV Spring Festival gala and implemented 4K HD signals back to CMG in Beijing,at the same time the 4K UHD signal from Beijing will be sent to Shenzhen venue at real-time.
Not long after that, the annual CCTV Spring Festival gala will be transmitted via 4K UHD 5G network at Shenzhen venue,which is the first time for 5G 4K transmission in China.
Compiled by China IDCNOVA, retransmission prohibited without authorization.

For more information, please contact justin@idcnova.com