Though Huawei's international business remains clouded by U.S. security allegations, the Chinese company is continuing to debut next-generation communications and AI solutions that will be of interest to companies around the world. Huawei's latest such offering is the Mobile Automation Engine (MAE), a solution designed to accelerate autonomous driving using cellular networks.
The idea behind MAE is to help the automotive and mobile network industries use AI to deliver increased vehicle automation in specific scenarios, ramping up on a scenario-by-scenario basis as AI becomes more capable. Huawei expects that AI will grow in capability during the late 4G and early-to-mid 5G eras, with fully driverless cars becoming available in 10 years or so, likely sometime in the 2030s.
MAE theorizes that cellular networks will evolve to handle various vehicle scenarios, add AI to manage multiple vehicles' scenarios, and introduce a closed-loop "autonomy by layer" system to make collaboration efficient. Once MAE is coordinating vehicles, customers will only need to focus on intentions — "I want to go to the store" — and policies, such as "take the most scenic route."
While MAE is currently a theoretical framework for making fully autonomous vehicles a reality, Huawei says it attracted wide participation from operators, associations, and analyst organizations, notably including global wireless standards groups GSMA and GTI.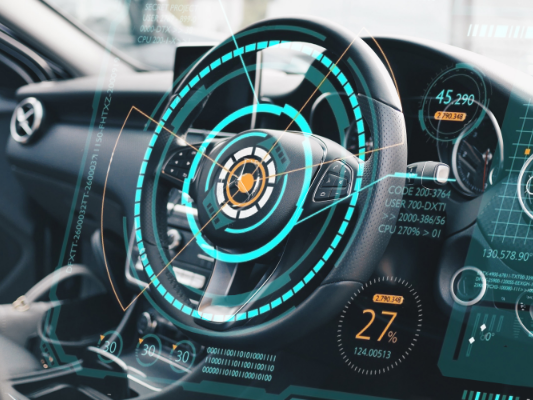 In a concrete example of wireless vehicle coordination, Huawei also partnered with Jaguar Land Rover and Vodafone to demonstrate a Cellular Vehicle-to-Everything (C-V2X) car communications system, compliant with the international 3GPP Release 14 standard. C-V2X units developed by Huawei were placed inside a Jaguar F-PACE and a Land Rover Discovery, adding support for car-to-car PC5 (short-range) and Vodafone Uu (long-range) mobile communications.
The demonstration sought to show how C-V2X can use nearby car- and network-delivered alerts to enhance road safety in four situations:
a PC5 alert between cars when one is changing lanes or about to overtake from a blind spot

an alert when approaching a vehicle that is emergency braking or has broken down

a speed limit change alert from a Huawei-developed PC5 roadside unit

a PC5 and Uu alert at T-junctions, critically important to motorcyclists.
"This live demonstration shows that the technology has reached a mature stage and is ready for deployment," said Vodafone R&D head Luke Ibbetson. "That is very good news for all road users."
Huawei and other companies have been working aggressively on C-V2X car communication systems in the lead-up to 5G network launches, though questions have remained as to whether C-V2X will launch in the late 4G or early 5G era. This is in part due to uncertainty as to network availability across the world. Whenever C-V2X systems are deployed, they are expected to dramatically reduce driving accidents and deaths by enabling drivers to sense both static and dynamic road hazards better than they would without network and shared vehicle alerts.