IDCNOVA news:According to the latest report by IDC on operators assessment regarding governmental affairs big data platform of China 2018,Huawei topped in the aspects of market performance and current capability upon its outstanding comprehensive strength and technological innovation in the Huawei Cloud governmental affairs solutions.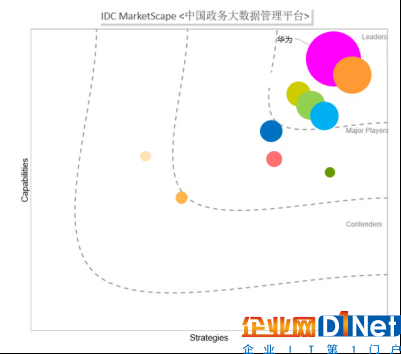 To push the implementation of internet plus governmental affairs,local authorities around China are accelerating the building up of e-government big data and fulfil the efficient and free flow and sharing of data.Huawei provides the end-to-end solutions ranging from IT infrastructure to application together with partners.In terms of data,Huawei Cloud e-government solutions provide five crucial functions of data collection,data sharing,data management,big data pool,resources catalogue,etc.
Currently,Huawei had already provided with over 350 e-government big data practices,including 22 state-level bureaus(General Administration of Customs,etc.),18 provincial units(Jiangsu,Beijing,Chongqing,Shandong,etc.),310 municipal/county-level units(Xiangyang,Yichun,Longgang District of Shenzhen,Gaoqing County,Lanzhou New Area,etc.)and so on.
Compiled by China IDCNOVA, retransmission prohibited without authorization.
For more information, please contact justin@idcnova.com