The upsurge of cloud computing has driven the rapid growth of data center infrastructure.According to Gartner's latest report on public cloud,the CAGR of China public cloud IaaS will reach 45.6%by 2022,making China one of the fastest growing markets in the world.And GDS can be regarded as one typical player in terms of IDC operator and service provider.
According to the fiscal report of GDS in third quarter of 2018,its net income was 762.8 million yuan($111.1 million),increasing by 79.7 percent.The service revenue reached 752.6 million yuan($109.6 million),up 77.9 percent.The EBITDA(adjusted)rose to 301.2 million yuan($43.8 million),up 125.3 percent.After the short-selling incident in the middle of the year,the finnancial results of GDS strongly fought back the false rumors in the market.
According to the latest report by a Chinese website,it's publicized that GDS is following customer demand to cultivate its own additional capacity for endogenous growth,thus its hybrid cloud strategy been further strengthened and the cloud connection platform has become one of its major services.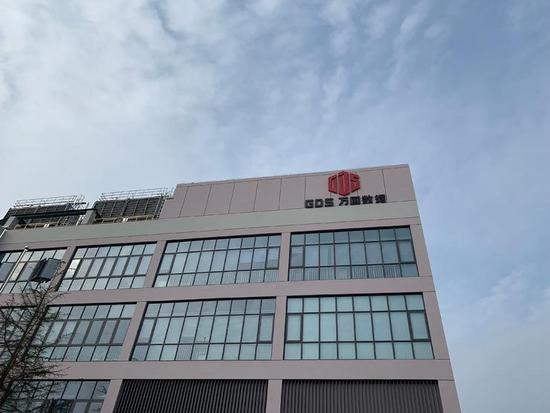 Cloud connect
More and more large-scale enterprises are increasingly using hybrid cloud services,deploying the multiple-cloud environment of private cloud,managed cloud or public cloud,which requires third-party vendors to help enterprise customers manage hybrid cloud.
Specifically,there are three backgrounds for the introduction of GDS cloud connect service:
1.The capacity of a single data center is limited.If the user deploys a phase I project in one data center,the subsequent expansion may need to be deployed in another data center.
2.Cloud service providers not only need to have strong network capabilities,but also need to help cloud customers connect to the cloud conveniently,quickly and reliably.
3.The managed client of the traditional data centers are all developing IT architecture to the hybrid cloud mode.It is the demand of every hybrid cloud project able to connect the cloud just like the internal network connection
GDS has a long history in hybrid cloud deployment.As early as 2015,GDS had already provided hybrid cloud solutions and services for enterprise users.In 2016,its CloudMiX™started to provide customers with a hybrid cloud access,connecting a number of well-known domestic cloud services platform,now CloudMiX™achieved upgrading again.
Cloud connect products are based on SDN to provide CX,DCI,Cross connect,dedicated access,Internet access and other services,it can help the enterprises to integrate and control all aspects of hybrid cloud computing environment,covers enterprise private servers and one or more public cloud service providers.At present,GDS cloud connect service is supporting Alibabai cloud,AWS,Azure,Baidu cloud,Tencent clloud,Huawei cloud,UCloud and VCloud Datacenter of VMware,etc.
According to Zhao Xin,director of network products of GDS,there are three typical business scenarios for cloud connection:
Managed cloud and public cloud in a same GDS data center:CX+Cross Connect service used in combination;
Managed in different locations in the data center of GDS:combination via CX+DCI(in the same city or long distance);
Non-GDS data center,connected to the cloud:business portfolio of CX+private line.
William Huang,the founder,chairman and CEO of GDS said that,"Our cloud connect products will provide the most powerful network support for the multiple-cloud connect needs from customers,help customers realize interconnection between resources and data centers under situations of cloud online,offline and even among different public cloud,satisfy customers with multiple business scenario demands of deployment in various location,connection on demand with fast speed and safety,accelerate the implementation of hybrid cloud strategy for customers.Meanwhile,through cloud connection products,major cloud service providers can establish fast,compliant,safe and reliable connection with potential users."
It's a complex process for the enterprise's cloud application.GDS provided the whole chain services from consulting to the deployment,transfer and end-to-end,all by integration operation via cloud online and offline.As the customer business changes,its requirement of cloud computing is evolving.Cloud network convergence ability is always the priority need for enterprise customers,the stability of the network displays the reliability of cloud services,thus it's logical to strengthen business in cloud network integration for GDS.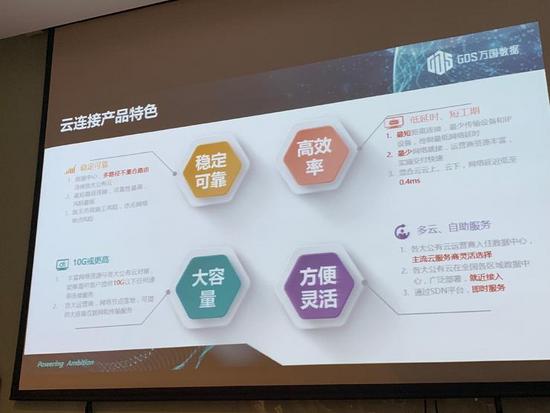 Focus on resources of first-tier cities
By the end of the third quarter of 2018,the total computer room area of data center operated under GDS had exceeded 147,000 square meters,including 24 self-built data centers.Six data centers are under construction,with a total computer room area of more than 43,000 square meters.
In Shanghai,the established data centers of GDS including Shanghai No.1,No.2,No.3,No.4,No.5(phase I),No.8 and No.11.No.6,No.9 and No.10 are under construction.
In Beijing,the existing data centers of GDS are basically saturated,and a new data center will be put into use in the fourth quarter this year.
Different from Beijing,there are relatively fewer internet companies in Shanghai,but more financial companies.But what's surprising is that,according to the financial report of GDS,the proportion of internet customers in Shanghai is increasing.In this regard,Zhen Zongya,the director of managed products of GDS said,Both the customers of GDS from financial and internet industries are growing steadily,and the internet customers are increasing greater.
Mr Zhen replied that GDS focuses on providing high-availability data centers in first-tier cities,is gradually expanding to other key cities with the aim of eventually covering more cities across the country.
However,GDS is still focusing on first-tier cities and their surrounding areas at least for a short period.As a third-party data center operator,the primary consideration for the location selection of GDS is the relatively concentrated customer demand to ensure the input-output efficiency,so its reserve in non-first-tier cities are mostly located around.In the communication meeting on Q3 financial report,Wiliam Huang mentioned that GDS won three top customers this quarter.
Compared with the mature cloud computing market in the United States,the China domestic cloud service market is still in the stage of rapid development.The growth rate of cloud computing manufacturers is still around 100%.GDS is not only to develop as a simple provider of data center infrastructure,but also strive for becoming a solution provider for the cloud application of enterprises.
Compiled by China IDCNOVA, retransmission prohibited without authorization.
For more information, please contact justin@idcnova.com