雄安超算中心开工仪式
The Xiong'an Supercomputing center project, which is under construction, will serve as the "urban brain" of Xiong'an, which will create an urban computing system that integrates "edge computing, cloud computing, and supercomputing".
A few days ago, the Xiongan Urban Computing (Super Computing Cloud) Center project started construction in the Rongdong area of Xiongan New District. The project is expected to be completed by the end of 2021 and put into operation in 2022.
Xiong'an Urban Computing (Supercomputing Cloud) Center Project is abbreviated as "Xiong'an Supercomputing Center". The project is located in Yuerong Park, an ecological green park area on the west side of Rongdong Area. It covers an area of 45 acres and has a total construction area of about 38,000 square meters. It is divided into three floors above ground and one underground floor. The above-ground building area is 13,505 square meters (the total building area of ultra-low energy consumption area is 10,580 square meters), and the underground building area is 24,031 square meters.

The construction content of the first phase of the project mainly includes three aspects: the data center, the Xiongan cloud platform, and the supporting facilities of the Xiongan supercomputer system: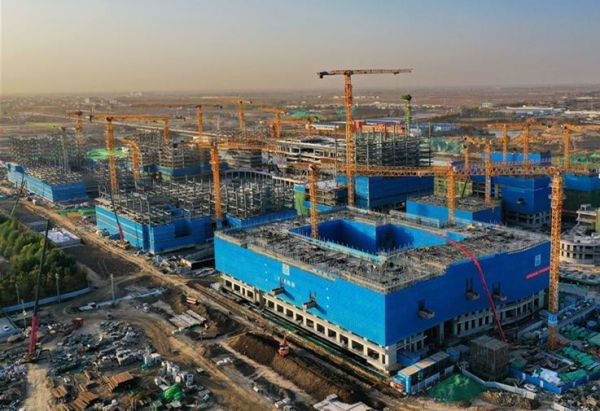 河北雄安新区其中一处建设现场
IDC Phase I has approximately 539 equipment cabinets and supporting infrastructure, providing services such as server hosting, space rental, network bandwidth and other services for enterprises and individuals settled in Xiong'an New Area;
Xiong'an Cloud Platform, this phase will build a cloud resource pool with a scale of about 1,970 servers, establish a cloud computing infrastructure platform including computing, storage and networks. It will provide intelligent infrastructure for Xiong'an New Area and to build a global intelligent environment and carry the new district government application, core data and application services open to the public.
The computer room and electromechanical facilities of the supercomputing system will be built to support the construction scale of about 2Pflops (1PFLOPS equals 1 floating point instruction/second) peak computing capacity.
Since the central government decided to establish the Hebei Xiong'an New District, the construction of the new district has been in full swing. Many projects have been started one after another.
According to the Plan, the construction of Xiongan New District should highlight seven key tasks: First, build a green and smart new city and build a world-class green modern smart city. 2. Create a beautiful ecological city environment. 3. Develop high-tech industries, actively absorb and gather innovative elements and resources, and cultivate new kinetic energy 4. Provide high-quality public services, build high-quality public facilities, and create a new model for urban management. 5. Build a fast and efficient transportation network and create a green transportation system. 6. Promote the reform of the system and mechanism, help market and the government play their role in resource allocation to stimulate market vitality. 7. Open door wider to the international and create new platforms for expanding development and external cooperation.
Among the above seven important tasks, many of them are closely related to the data center industry, and some require the data center as the support of the Internet infrastructure. It can be said that in the future development and construction of Xiongan New Area, a data center is indispensable, so Xiong'an Supercomputing Center will definitely play an important role in the future development of Xiongan New Area.
According to the introduction of the Xiongan New District, the Xiongan Supercomputing Center project that under construction is the "urban brain" of Xiong'an. It will create an urban computing system that integrates "edge computing, cloud computing, and supercomputing", and will serving the digital twin city's Big Data, blockchain, Internet of Things, AI, VR/AR provide network, computing, and storage.
They will build a unified cloud resource management platform to realize the on-demand distribution of overall resources, flexible services and unified management to meet the business needs of government units, enterprises, and individuals in the new district for computing, storage, and network resources, and support smart cities and transportation, smart health care, precision poverty alleviation, population information database, enterprise information database, geographic information database, economic database, Internet of Things and other applications in order to promote the informatization process of the government and enterprises in Xiong'an New District.
---
Compiled by China IDCNOVA, it's open and available for repost, reproduce, quote or retransmission if clearly stating the source with web link combined.

If you want to deep into any specific topics related to the industry to get more insights, please contact pm.s@idcnova.com or order our syndicated/custom report. Also, welcome to check our enterprise services to see how we can help you.