Introduction:
IDCC2020 the 15th China IDC Industry Annual Ceremony will be held in Beijing, China from 8th to 10th December 2020. The Ceremony will focus on the topic of "Redefine IDC" aiming at "Learning the changing layout, Seizing the industry opportunities and Leading the future trend", and have a further discussion about the development trend of China IDC revolution along with its opportunities.
The digital economy is booming, and different types of new scenarios, such as industry internet, intelligent transportation, intelligent finance and city management, are constantly emerging. Users have more requirements on the calculation power, promoting the 5G and edging era. With the popularity of cloud computing, users' requirements tend to be more diverse, IDC is transferring from traditional isolated model and storage infrastructure to Hashrate cluster represented by intelligent and based on high speed Internet. In this context, "IDC" will be redefined, huge industry opportunities will come along.
1 China IDC Market Will Continue Developing
According to KZ Consulting (IDCNOVA research center)'s industry report, China IDC business market scope will be over CNY 150 billion in 2019, and it is estimated that it will exceed 320 billion yuan in 2022 increased by 28.8%. Because of the COVID-19 in 2020, online economy is rapidly developing, cloud education, cloud classroom and other scenarios are springing up. The new infrastructure policies promote related projects open up and attract vast amounts of capital. After the implementation of REITs, the market entry and exit mechanism approach to perfection, effectively increasing the enthusiasm of the investors to invest in IDC.
Besides, IDC, as a heavy asset, is highly demand-oriented and shows a clear concentration effect. Core cities – Beijing, Shanghai, Guangzhou and Shenzhen, and the developed areas like GBA (Guangdong-Hong Kong- Macao Greater Bay Area) and Yangtze River Delta have intensive customers' needs on finance, internet and ecommerce, which becomes the main place for building new IDC projects.
With the development of digital economy, the needs will increasing, the industrial ecology come after it will bring greater opportunities.
2 The Development of Digital Economy will Redefine IDC
Digital economy in the future will feature a new pattern of "computing everywhere". For example, ubiquitous edge computing capabilities are required to realize driverless precisely; Rapid analysis of massive amounts of data is required for intelligent customer service to provide efficient services. In addition, with the acceleration of 5G commercial use, new types of facilities such as smart light poles and energy base stations will also be everywhere; smart transportation, smart medical, smart business and many new industrial Internet applications will also land soon. All of these will lead to huge changes in data centers in the future in terms of style, service mode and many other fields, and they will be as common as "water", "electricity" and "air".
All of these will inevitably require vast investment continually on large-scale IDC and edge IDC projects of various shapes. It will not only drive the development of various industries, but also promote other industries with IDC as the core to obtain huge opportunities. The underlying technology ecology such as modular construction, green energy saving, intelligent operation and maintenance, and new networks are taking shape.
For IDC practitioners, or those who are interested in entering the game, how to seize the opportunities during the changes has become an important question to think about.
3 Learning the changing layout, Seizing the industry opportunities and Leading the future trend – IDCC2020 is Coming!
The booming digital economy, and the continually increasing demand on computing capabilities with the supportive industrial policies and the favour from capital, China's IDC industry has entered a greater opportunity period in 2020. In this context, how should practitioners seize the opportunities? The 15th China IDC Industry Annual Ceremony (the official website: http://idcc.idcquan.com ) will be held in Beijing from 8th to 10th December, 2020. The conference will focus on the topic of "Redefining IDC" aiming at "Learning the changing layout, Seizing the industry opportunities and Leading the future trend", we gathered many industry experts, well-known corporate executives and practitioners to discuss the evolution trend of China's data center revolution era.
There will be head users from the Internet, finance, transportation, medical care, artificial intelligence, e-commerce and many other industries, representatives of telecom operators, representatives of outstanding third-party data centers, infrastructure manufacturers, new technology service providers, as well as leaders from government and industry park and nearly millions of people are expected to participate in this grand event!
The agenda of this conference is set for a total of 3 days, and there will be many great guests with wonderful speeches, and the concurrent activities will also be wonderful. After fifteen years, the 15th China IDC Industry Annual Ceremony 8th - 10th December 2020, will work with you together and jointly explore the new opportunities in the industry!
4 IDCC2020 Highlights Preview
5 IDCC2020 Major Forums Spoilers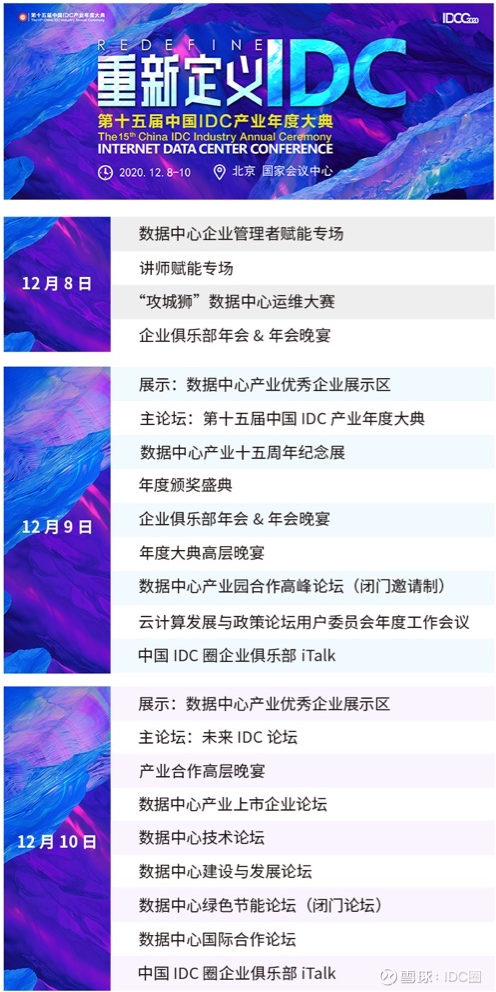 For more information, please refer to the official website: http://idcc.idcquan.com/,
Contact Us

Speaker Recruitment: Ms. Zhang

Contact Number: 18601352620

Email: cara.z@idcquan.com

Business Cooperation: Mr. Cao

Contact Number: 010-5145 5822

Email: will.c@idcquan.com

Media Cooperation: Ms. Wang

Contact number: 010-5166 8499-605

Email: news@idcquan.com
Compiled by China IDCNOVA, it's open and available for repost, reproduce, quote or retransmission if clearly stating the source with web link combined.

For more information, please contact justin@idcnova.com