IDCNOVA news:"Everything is going on very well.Local authority has been always supporting our project very much and we are cooperating with each other very well."At the China International Big Data Industry Expo 2019 held in Guiyang,the capital city of southwestern Guizhou Province of China,Ge Yue,VP of Apple and president of Greater China Region introduced the current status of the first data center of Apple in China.
It's reported that,Apple announced to invest$1 billion to launch its Apple iCloud China(Guian)Data Center in Guizhou Province,southwest China in 2017.Meanwhile,Apple authorized
Guizhou-Cloud Big Data Industry Development Co.,Ltd.(GCBD)as its solely partner operating cloud services in China Mainland.
The first stage of this site by Apple located in the Guiyang-Anshun New Area occupies 10 hectares and will expand to 28.7 hectares.Besides data center,Apple will also set up nodes accordingly in several major cities of China to store user data within close proximity,thus not only speed but also the stability will be lifted greatly when users upload and download data in the future.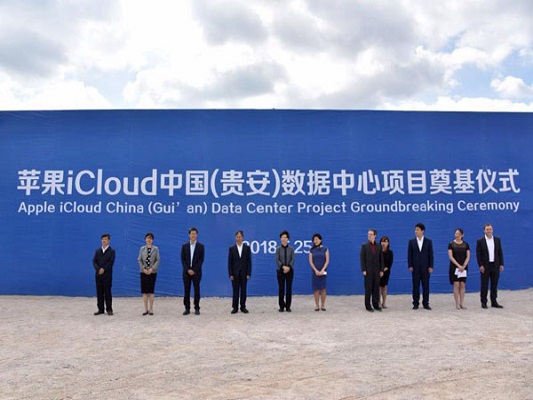 Entrance to the Apple Guian Data Center under construction
Ge Yue claimed that,Apple Guian Data Center will help to reduce latency and improve reliability so as to lift the overall reliability of products and services provided by Apple in China.After its completion,it'll be the first data center using renewable energy 100%in China.

On February 25,2019,Apple China(Guian)Data Center Transformer Substation was launched to construct and it will meet the power demand for this site after completion.Occupying 4,020 square meters,this transformer substation is employed with indoor GIS mode for construction,and 2 63MVA main transformers will be installed.The connection is adoped with double bus bar and dual segmentation with dual wire design.The construction period of Apple China(Guian)Data Center Transformer Substation project is 8 months to be completed in the end of October,2019,achieving into operation.
Since the ground breaking of this site,it's smoothly carried out in all-round way,and the major construction"data building"is being built up now.
In addition,Guian has formed up a"6+N"data center cluster consisting Huawei,Apple,Tencent,China Mobile,China Unicom,China Telecom plus Foxconn.This site is also the third data center of Apple outside USA.
Except this site in Guian,Apple also launched another iCloud data center in Ulanqab,Inner Mongolia for better serving the Chinese customers.
Related: Apple builds first North China data base in Inner Mongolia
Compiled by China IDCNOVA, it's open and available for repost, reproduce, quote or retransmission if clearly stating the source with web link combined.
For more information, please contact justin@idcnova.com