Editor's note: Owing to its rapid growth in recent years, China's attracting lots of overseas IDC providers to explore China market. Hereby we will provides you a special series of IDCICF voice continuously to share the industrial and professional voice from experts and executives.
Tim Li, senior analyst from KZ Consulting (IDCNOVA research center), professional and experienced at China IDC market and other emerging markets, Southeast Asia in particular, with analytical and authoritative research paper.
December 12-13,2018, hosted by the organizing committee of China IDC Industry Annual Ceremony,undertaken by IDCNOVA and CloudBest,the 13th China IDC Industry Annual Ceremony(hereinafter referred to as"IDCC2018")was held in China National Conference Center(aka CNCC),Beijing."Enabling corporate digital transformation",this conference attracted officials and experts from MIIT and CAICT,as well as executive,guest and media from the operator and service providers of internet,IDC and cloud computing.

The 2018 IDC International Cooperation Forum (hereinafter referred to as IDCICF)was held on Dec 13,2018.Guests from home and abroad conducted in-depth discussion on digital economy era,pulsing the global IDC update and trends,focusing on hot spot,exchanged and communicated to share the mutual development opportunities.
At IDCICF,Tim Li,senior analyst from KZ Consulting(IDCNOVA research center)delivered a wonderful speech themed of"A Brief Introduction of Fast-growing China IDC Market".The following is the transcript of speech(not verified by the speechmaker himself)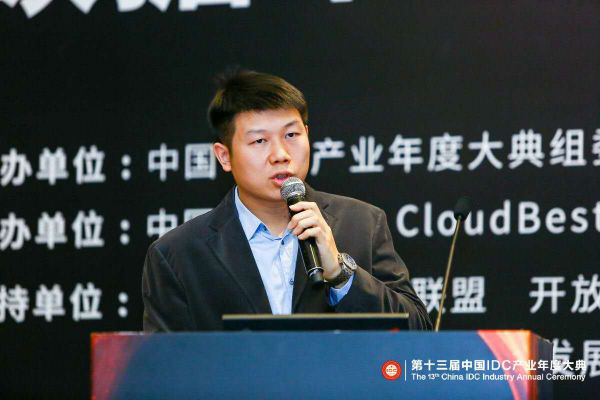 Tim Li,senior analyst senior analyst from KZ Consulting(IDCNOVA research center)
Good morning,everyone!It is my great honor to share the results of our research center with you on this occasion.It's the IDCICF today,and we have friends from international service providers here,and since they do not have such a comprehensive understanding of ChinaIDC market,I'm willing to do analysis on IDC from the research perspective.
I have come to a conclusion that there are about 500,000 data centers in China and more than 1 million in the United States.If we simply calculate the market size roughly,it is about twice as large as China IDC market.However,China IDC market is lead the world in terms of growth rate.Up to last year,the growth rate of China IDC market remained at 30%,and its peak in 2014 was 41%.Since the 4G scale came up,IDC has developed rapidly.Although its current growth rate has slowed down,it's still leading the world.The statistics of IDC market size is a broad scale,including scale of CDN and IaaS,the overall sum will be larger.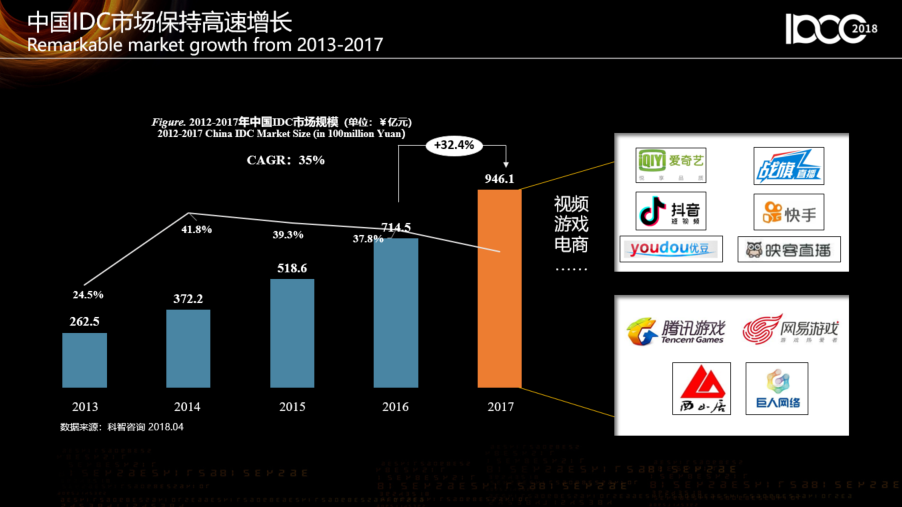 There must be some reason for the decline in IDC market growth.From the perspective of demand,the most vigorous demand for IDC industry is the internet industry.Observing 2016 and 2017,the growth rate of the internet industry,especially streaming,games and e-commerce,which are the industries with the most concentrated demand for IDC,all has decreased.The game industry still slightly increased,but the increase mainly comes from the rise of mobile games. Streaming and e-commerce are in a state of decline. Some experts have studied the performance of internet enterprises and servers,as well as IDC hosting demand,which shows a certain linear relationship.Therefore,it is understandable that IDC market as a whole is declining in the context of slow decline owing to the greater demand.The growth rate of video industry including the leading APP iQIYI and Tencent is slowing down.As for the e-commerce,JD.com is declining,Alibaba is increasing.The performance of the leading enterprises has declined.In the past two years,many unicorns were born,such as toutiao,Pinduoduo,and they all created growth of times even dozens of times.Major IDC service providers have maintained stable and rapid growth in 2017.From the perspective of telecom operators,China Mobile grew by more than 50%last year due to its low base.According to the MIIT statistics on China IDC market,the telecom operators accounted for 57%,and the third party 43%.After several years of continuous observation,it's found that the third party operators'market share is increasing in a steady and slow way.Through the sampling analysis based on the questionnaire made in IDCICF last year,resources are the most important advantage for service provider,including basic resources(electricity,land,customers),the operation capacity,product's cost performance,brand.Operation matters mainly because of the clients are internet companies dominated,and internet companies are increasingly demanding for operation level of refinement as well as the customization ability.
Based on the distribution of data center,the thermal diagram is made. According to the data of MIIT,the distribution of data center in China is significantly correlated with the level of economic development,with the most concentrated distribution in Beijing,Shanghai and Guangzhou.In the past two years,under the guidance of the national distribution policy,the number of newly built data centers in Inner Mongolia and Guizhou has been rising rapidly.
As part of telecom services,IDC is certainly heavily influenced by policy in China.From two angles to do a simple analysis,the overall requirement of national policy on IDC is professional,compliance and benign development.Last year,China put forward a new IDC design specification to make data center construction standards close up to international level,and in terms of layout,besides the west China concentrated with electricity and energy,it's also required to slowly raise the level of PUE and further reduce the energy consumption.
In Beijing,Shanghai and Guangzhou,the most concentrated core regions of China IDC,the focus of policy management remains energy conservation and strict control over the number of newly built data centers.The key areas can be divided into two parts.The second-tier cities around the first-tier cities are affected by the strict control of first-tier cities,and the demand will gradually spill over to these areas nearby the first-tier cities.These regions will meet the demand of some newly built data centers.And the local governmental authorities have also learned new management methods in the rapid construction of data centers,such as tax privilege and output per kilowatt hour.Although the overall policy is encouraging,the management has also put forward more stringent requirements for newly built data centers.Inner Mongolia and Guizhou are the regions that are encouraged in layout,and the attitude of encouragement is the whole.After all,they have advantages in natural resources.
This is a forecast for the future China IDC market.Driven mainly by new technologies,there will be a new turning point of growth in 2020.5G operator map has been demarcated,Cengdu,such a popular second-tier city has also realized the full network layout,the national standard to achieve commercial use for 5G in 2020 is achievable,which will produce new technology applications and new consumption scenarios,directly driving the emergence of new IDC demand.
There will be several major concerns in the future:
1.Demand side. Internet companies will have major demands for IDC,especially under the leadership of new technologies,and new scenarios will appear.Digital transformation of traditional enterprises has become an inevitable trend.Digitalization is no longer a means for them to improve their competitiveness,but a means to avoid being eliminated.Through digitalization,traditional enterprises can further improve consumer contact points and operational efficiency,and those enterprises without digital transformation will be gradually eliminated by the market.
2.Regional layout. It is still dominated by first-tier cities,which is in line with the situation of various economic regions.For example,Beijing-Tianjin-Hebei,Yangtze River Delta and Greater Bay Area are still the next major IDC construction regions.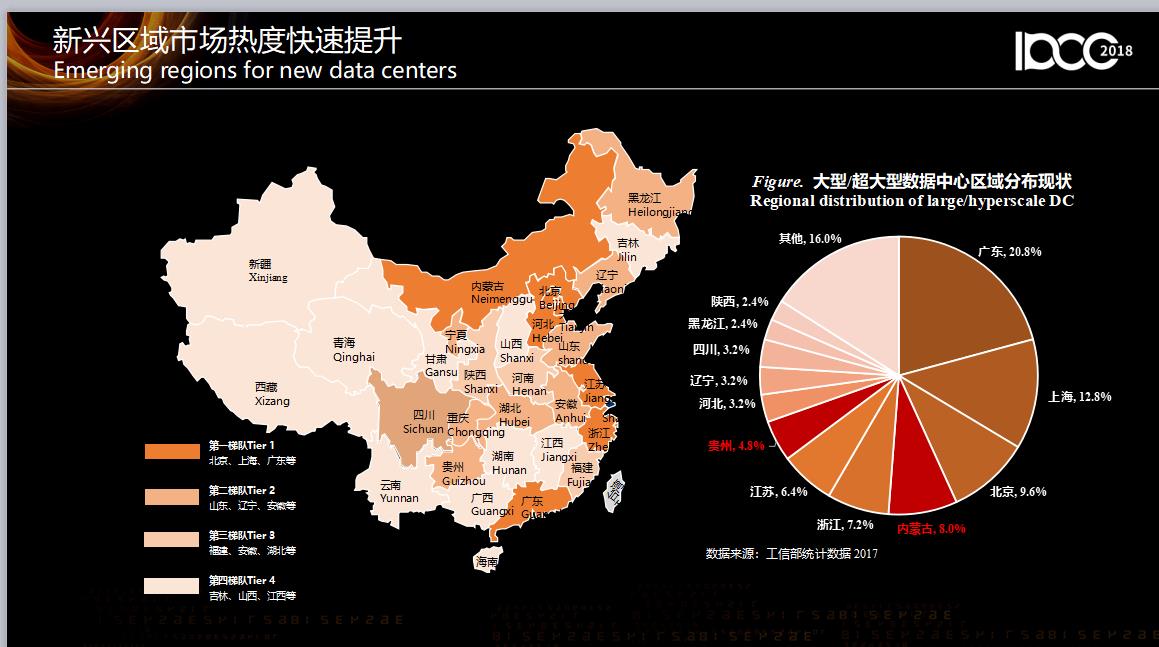 3.Going global. The emerging countries will be a new opportunity for some Chinese IDC enterprises,and they will also cooperate with those Chinese internet enterprises when they go abroad.
4.Integration of mergers and acquisitions. With the increasing control in first-tier cities,operators'ability will be further improved.It can be seen that the income generated by each kilowatt hour and per mu(Chinese land measurement unit,equals to 666.6 square meters)needs more refined operation to ensure the return level in first-tier cities.Under the background of detailed operation and the requirement of gradual improvement of resource utilization,China IDC will gradually generate integration trend,and mergers and acquisitions will be more frequent in the future.
KZ Consulting,also known as IDCNOVA research center,is set up based on the past 10 years'development and under the customer demand,at present KZ Consulting is mainly for cloud computing,IDC and big data for regular study,and our main products include standardized reports and customized project.We have served the most domestic IDC service providers and hope to have more cooperation opportunities with you.
Thank you!

If you want to consult any information about China IDC market as well as emerging markets, eg. Southeast Asia, or get access to research paper, please contact tim.li@idcquan.com
Original article by China IDCNOVA, retransmission prohibited without authorization.
For more information, please contact leo.z@idcquan.com