Jan 27, 2023, /Yahoo!Finance/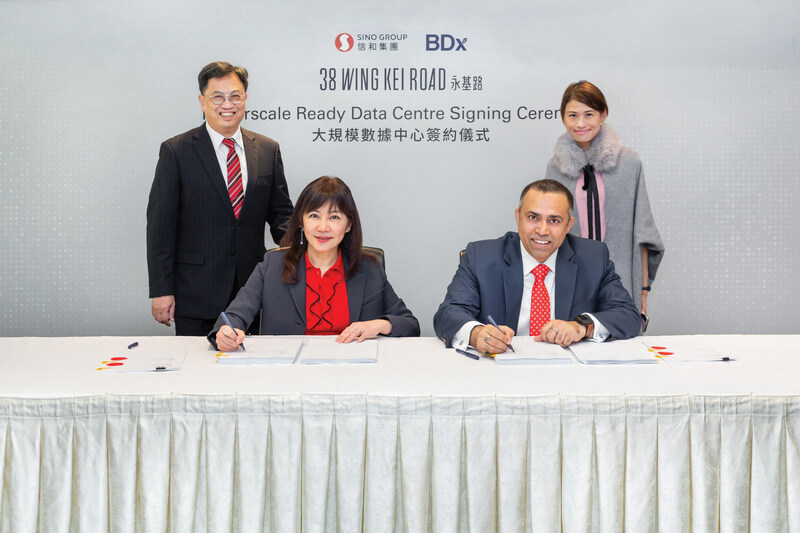 (From left) Ng Wai Hong - Assistant General Manager (Leasing) of Sino Group, Bella Chhoa - Director of Asset Management of Sino Group, Vijay Tripathi - Chief Financial Officer of BDx and Katherine Lee - Head of Legal of BDx attend the signing ceremony.
BDx Leases 38 Wing Kei Road for Hyperscale Data Centre

Gearing up for Reindustrialization and Promoting Hong Kong's Innotech Development
HONG KONG, Jan. 27, 2023 /PRNewswire/ -- Sino Group's latest industrial project in Kwai Chung, 38 Wing Kei Road, will be completed in the second quarter this year. The 18-storey industrial building has a total gross floor area of 191,307 sq ft, with floor areas ranging from 1,386 sq ft to 12,314 sq ft (whole floor). In addition, it has a generous ceiling height of 4.7 m and is equipped with extra high load-bearing freight lifts. Big Data Exchange (BDx) has become the largest tenant by leasing the space for its hyperscale data centre. BDx will fit out the facility as a data center campus with up to 16MW.
Promoting Hong Kong's Innotech Development
The government has been very active in advocating re-industrialization in Hong Kong in recent years; it has transformed industrial estates into innoparks. Under the government's industrial building revitalization measures, Kwai Chung, a conventional industrial district, has rapidly transformed into a business district with unlimited development potential.
Bella Chhoa, Director of Asset Management of Sino Group, said: "Recent years saw the thriving development of innovation and technology; Industry 4.0 has quickly become a global trend. Amid these developments, Sino Group launched a brand new industrial development, 38 Wing Kee Road, with BDx becoming a major tenant. There is no doubt that Hong Kong will be re-industrialized, riding on the development of innotech. We believe that the opening of the data centre will further advance Hong Kong's innotech development."
Vijay Tripathi, Chief Financial Officer of BDx, said: "Today marks another great milestone in BDx's plans in Hong Kong, which is a strategic and important market for our customers. Being one of the fastest growing data center platforms in the region, we are continuously expanding our footprint in Hong Kong to support digital delivery and cater to the demand from our existing and potential customers. We are excited to develop our new facility in partnership with the SINO Group, a trusted and leading property developer in the region."
Over 90% Letting Rate in Sino Group Industrial Buildings & Completion of Three Industrial Building Revitalization Projects
Prospective tenants can choose from 30 properties offered by Sino Group's industrial building leasing services. Refurbishments at the two industrial buildings in Kwun Tong as well as the one in Sha Tin have already been completed.
Bella Chhoa, Director of Asset Management of Sino Group, said: "Sino Group's industrial buildings are located throughout Hong Kong, Kowloon and the New Territories. We stand ready to provide flexible floor partitions and professional solutions to satisfy the needs of different clients, such as logistics, central food processing, testing centre and data centre. The year 2022 saw a vibrant industrial building leasing market, as the overall letting rate in the Group's industrial buildings exceeded 90%.
"In terms of revitalization of industrial buildings and to practice the idea of mixed living platform, the Group has brought in lifestyle tenants, such as Fitness and Yoga centre, rock climbing, healthcare and different types of restaurants so as to promote work-life balance. Recently, we have brought in a traditional Chinese medicine healthcare centre and a well-known Japanese restaurant for the industrial building revitalization projects in Sha Tin and Kwun Tong, respectively. The TCM healthcare centre has just opened for business this month, and the Japanese restaurant is slated to open in the third quarter this year."
Chhoa also added that in order to promote sustainable development, things like touchless lift buttons and electric vehicle charging stations will be installed at 38 Wing Kei Road. Also, green elements will be incorporated in the building's exterior walls, and the goal is to attain BEAM's silver certification. Furthermore, the Group collaborates with a local beekeeping conservation group by installing a city beekeeping box on the rooftop of the building so as to make an additional effort to conserve solitary bees. The Group also promotes green living by leasing spaces to local green businesses like eco brick companies and hydroponics companies.
Details of 38 Wing Kei Road
Address

38 Wing Kei Road, Kwai Chung, New Territories

No of floors:

18

Total Gross Floor Area:

191,307 square feet

Floor Area for Lease:

1,386 to 12,314 square feet

Number of Car Parking Spaces

Private Car – 17

Motorcycle – 2

Large Truck – 16

Heavy Duty Truck – 9

Leasing Enquiries:

industrial-leasing@sino.com / +852 8338 1338
About SINO
Established in 1971, Sino Group comprises three listed companies – Sino Land Company Limited (HKSE: 083), Tsim Sha Tsui Properties Limited (HKSE: 0247), Sino Hotels (Holdings) Limited (HKSE: 1221) – and private companies held by the Ng Family.
As one of Hong Kong's leading property developers with core businesses in property development and investment, Sino Group has grown with the communities it serves. The Group's business interests comprise a diversified portfolio of residential, office, industrial, retail and hospitality properties across Hong Kong, mainland China, Singapore and Australia, and has developed over 250 projects, spanning more than 130 million square feet. Core business assets are further complemented by property management services, hotel investment and management, including The Fullerton Hotels & Resorts and other affiliate brands.
About Big Data Exchange (BDx)
BDx is a leading data center, colocation and hybrid cloud solutions provider in Asia Pacific and a portfolio company of I Squared Capital. Led by a globally recognized team, BDx empowers enterprises to scale across the world's most influential markets. With ultra-modern facilities spanning mainland China, Hong Kong, Indonesia and Singapore, BDx goes beyond space and power to deliver next-gen solutions. BDx's commitment to boosting sustainability has resulted in the partnership with renewable power suppliers to develop groundbreaking technologies and digitally transform its facilities. The company is vigorously expanding its presence into emerging regions to meet the growing digital requirements of hyperscalers, multinational, and financial services enterprises.
SOURCE Sino Group