21Vianet (VNET.US) , the largest carrier-neutral Internet and data center service provider in China will announce its unaudited financial results for the third quarter after the US stock market closes on November 22nd (Beijing time on the morning of November 23rd). The company's management will hold an earnings conference call at 9:00 am Beijing time on November 23 (8:00 pm ET on November 22).
---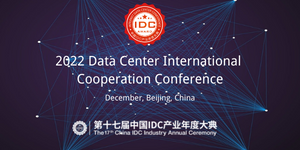 2022 Data Center International Cooperation Conference
December 27th, China National Convention Center
https://www.cloudpop.cn/topic/202210/index_en.html
As the symbolic grand gathering of China's IDC Industry, China Internet Data Center Conference (IDCC) has been successfully held for 16 years up to 2021. IDCC has already become the scale-largest, guidance-strongest and most coverage-extensive industry conference in China. With the rapid development of China's IDC industry, the influence power of the annual IDCC is increasing. The everage annual IDCC has more than 6,000 attendees. Under the guidance of Ministry and Information Ministry and other ministries, the annual IDCC integrates the upstream and downstream resources of the IDC industry to promote the service improvement of the domestic IDC industry and the healthy development of the industry. It also provides a platform for technical exchange, business cooperation and business negotiation for participating enterprises.
IDCC2022 will be held in Beijing on December 28, 2022, and the cooperation programme has opened to register. The cooperate forms include keynote speeches, customized forums, advertisement and etc. The IDCC Conference will introduce you and your company to clients in the China data center industry. Welcome to contact us pm.s@idcnova.com for more information about the IDCC2022 Beijing Station. We are waiting you there.
About IDCNOVA
Registered under the Digital Intelligence International Company Limited (中科智道国际有限公司) based in Hong Kong, www.idcnova.com is a professional media platform to serve global professionals, companies and data center industry by focusing on the dynamics of China data center, cloud computing and big data information. Our vision is to build up the bridge for domestic and international institutions, and the connections with China digital market.
ABOUT "IDC QUAN"
IDC QUAN , founded in Y2006, is an authoritative data center and media platform of the cloud computing industry in China. With new media, WeChat, magazine, industrial exhibitions and other mediums, IDC QUAN provides one-stop medium services such like supplying information, promoting industry communication and Brand publicity for those upstream and downstream enterprises in data center and cloud computing industry to actively enhance the industrial communication and improve new ecological construction development of China's Internet, data center and cloud computing.
IDC QUAN has portal website www.idcquan.com , magazine China IDC industry information and China excellent cloud computing solution manual, conferences and exhibitions for instance industry conference (IDCC), China Industrial Cloud Computing summit (C9) and China Industry Big Data forum (D9) and other famous brand exhibitions. All these build IDCQUAN to become a multi-dimensional medium matrix, a powerful resource network and communication platform for the data center and cloud computing industry, with influences on more than 5 million practitioners and deep coverage of upstream and downstream enterprises in the industry, which include telecom operator, domestic and foreign private data center, IDC service provider, cloud service provider, Internet company, government and industry users.